Hi Reader,
Have you heard of Global Entrepreneurship Week (or GEW)? It's a free educational conference that happens every November on all things business ownership and being your own boss.
So of course my business owner friends should make plans to attend! But even if you don't have a business or side hustle, there are networking events & skills classes that could help anyone.
And I'm teaching two such classes at GEWKC!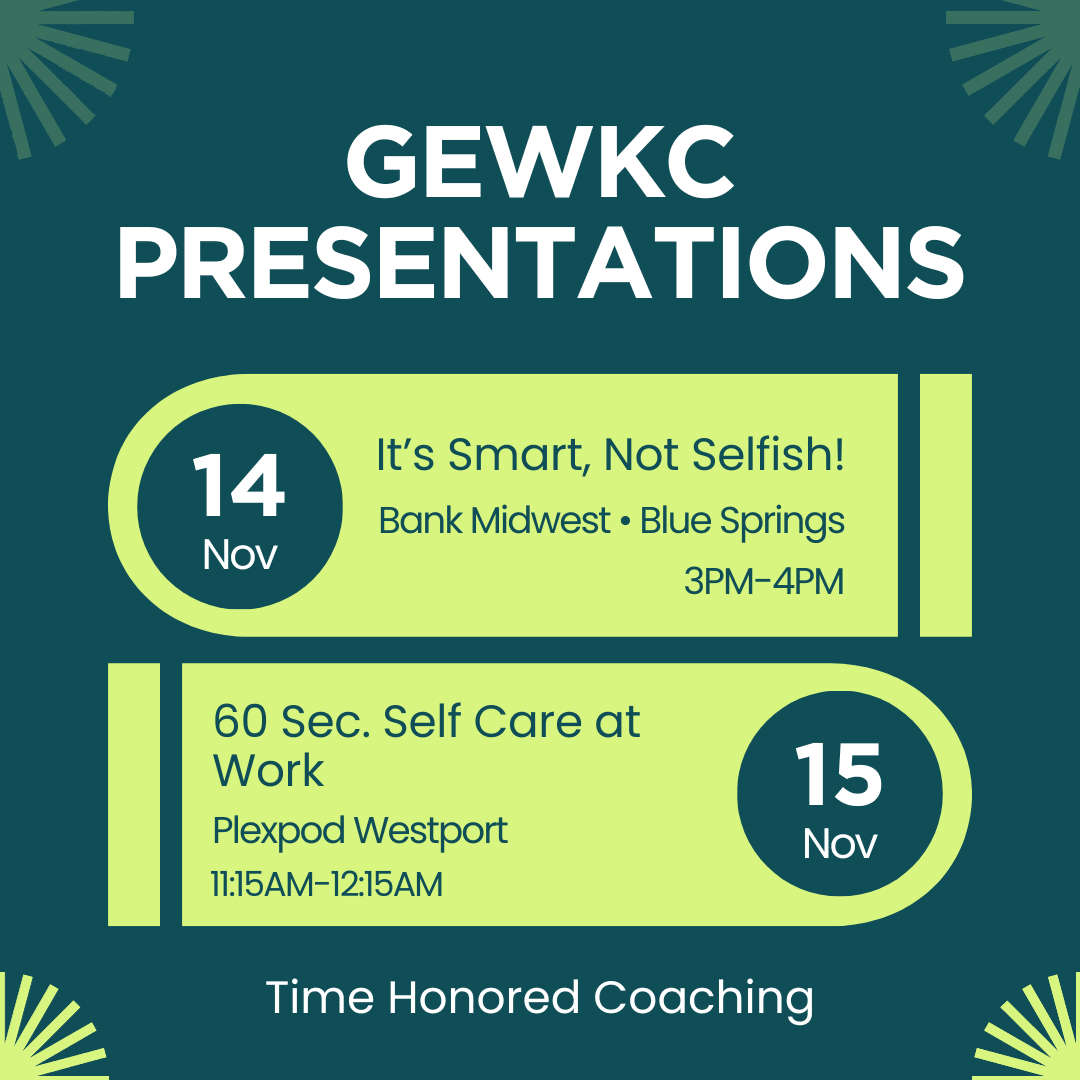 ---
It's Smart, Not Selfish! (How to establish boundaries to get your own work done)
​Tuesday, Nov. 14
3-4p
Bank Midwest, 1100 Northwest South Outer Road, Blue Springs
Find yourself too busy helping your employees or coworkers or putting out fires to get your own work done? In this class, we'll discuss a step by step process for carving out time for your work priorities. You'll have time in class to make your own personalized plan, and we'll do a bit of role playing to practice holding our boundaries around that plan.
Attendees must confirm attendance via Eventbrite for free tickets due to limited seating (max. 12).
---
60 Second Self Care at Work
Wednesday, Nov. 15
11:15a-12:15p
PlexPod Westport
Self care has become a buzz word that's often used to sell us expensive or time-consuming products. The truth is, self care IS important, but it doesn't have to be pricey or take a huge chunk of your day to be effective. Before you give up on self care because you can't afford a fancy spa day or find the time for a luxury vacation, come to this session to learn and practice multiple ways to make time for self care during your busy work day. You'll also leave with a list of over 60 free or low-cost ideas for self care.
---
Again, all the classes and events are free to attend so I hope to see you at GEWKC in a couple weeks! It's a great resource in our community, so take advantage of it if you can.
Check out gewkc.com for the full schedule of events & to register for classes you want to attend!
Breathe deep. Drink plenty of water. You got this!
​
Jen Roberts
Time Creation Coach
​
Feel like life is passing you by? Interested in creating more time for your priorities in 2023? I have 4 spots open for one-on-one coaching! Hit reply and let me know or Schedule a free 60 min time assessment here​
​